Bouguereau & America
February 15–May 12, 2019
Baker/Rowland Galleries
Bouguereau & America showcases more than forty masterful paintings by the French academic painter William-Adolphe Bouguereau (1825–1905). The exhibition explores the artist's remarkable popularity throughout America's Gilded Age, from the late 1860s to the early 1900s. During this period, owning a painting by the artist was de rigueur for any American who wanted to be seen as a serious collector: the artist's grand canvases brought a sense of classic sophistication to newly formed collections. Their chastely sensual maidens, Raphaelesque Madonnas, and impossibly pristine peasant children mirror the religious beliefs, sexual mores, social problems, and desires of that period. Moreover, the exhibition offers an opportunity to examine how society's perspectives can shift over time.
As the first major exhibition on the artist since the 1980s, Bouguereau & America will offer fresh perspectives on works that form the backbone of many museum collections.
Co-organized with the Memphis Brooks Museum of Art
---
Interactive Map
Explore a map that follows each painting's journey through America and learn more about the collectors that helped turn William-Adolphe Bouguereau into a household name. Open the map below to get started.
Open Interactive Map »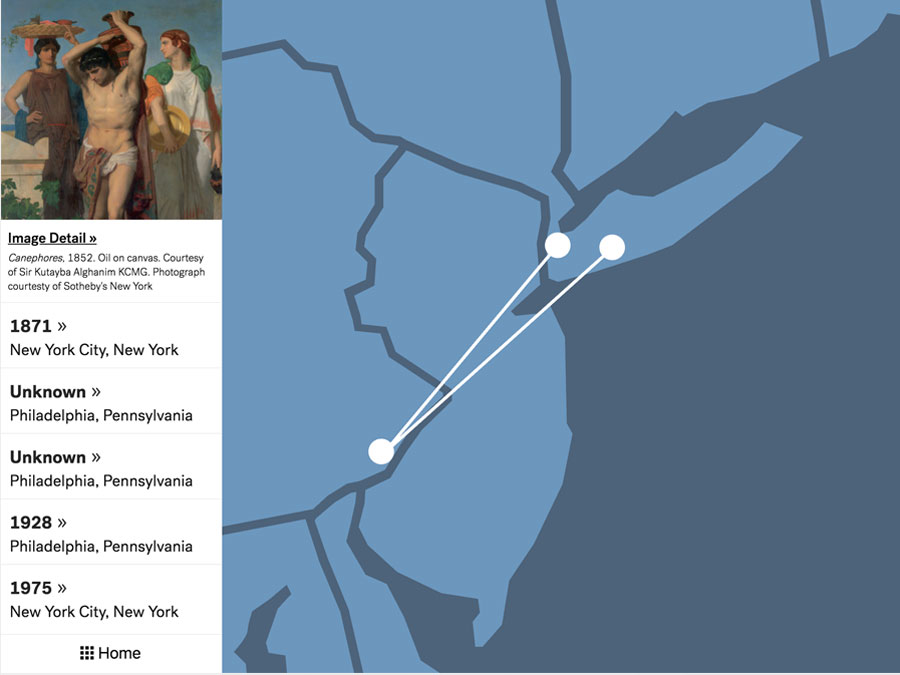 Interactive Map
The interactive map is designed for computer use. Please explore it on your computer or on the screens within the exhibition.
---
The exhibition is supported by an indemnity from the Federal Council on the Arts and Humanities.
Supporting Sponsors:
The Lynde and Harry Bradley Foundation
The Laskin Family in memory of Myron Laskin, Jr.
Anonymous
In memory of Dr. Russel Lee Wiener
Four-Four Foundation
Samuel H. Kress Foundation
Kenneth R. Treis
Milwaukee Art Museum's Fine Arts Society
Thanks to the Museum Visionaries:
Donna and Donald Baumgartner
John and Murph Burke
Sheldon and Marianne Lubar
Joel and Caran Quadracci
Sue and Bud Selig
Jeff Yabuki and the Yabuki Family Foundation
Bouguereau & America is a Layton Art Collection Feature Exhibition. The steward of the collection that Frederick Layton started, one of Milwaukee's founding public art collections, the Layton Art Collection Inc. is proud to partner with the Milwaukee Art Museum.
Image:
William-Adolphe Bouguereau (French, 1825–1905), Art and Literature, 1867. Oil on canvas. Collection of the Arnot Art Museum, Elmira, New York USA
William-Adolphe Bouguereau (French, 1825–1905), Homer and His Guide (Homère et son guide), 1874. Oil on canvas. Layton Art Collection Inc., Gift of Frederick Layton L1888.5. Photographer credit: Larry Sanders.
William-Adolphe Bouguereau (French, 1825–1905), Dream of Spring, 1901. Oil on canvas. Indianapolis Museum of Art at Newfields, Gift of Melvin and Bren Simon 2013.33
William-Adolphe Bouguereau (French, 1825–1905), Washerwomen of Fouesnant, 1869. Oil on canvas. Memorial Art Gallery of the University of Rochester: Bertha Buswell Bequest 55.61.