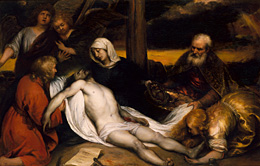 Jan Lievens: A Dutch Master Rediscovered
February 7–April 26, 2009
Jan Lievens' Enigmatic Career and Relationship with Rembrandt Van Rijn are Reconsidered in an Exhibition at the Milwaukee Art Museum
History has not been kind to Jan Lievens (1607–1674). A child prodigy—whose talent was prized by connoisseurs and collectors in his native Leiden during his teenage years, whose services were sought by princely patrons in The Hague and London before he reached age twenty-five, and who later in life continued to receive important religious, civic, and portrait commissions in Antwerp, Amsterdam, and Berlin—Lievens barely registers today in the public consciousness.
Lievens' early paintings are now better known, with the brashness of his vision and the boldness of his brushwork seen as rivaling Rembrandt's.

Because Lievens and Rembrandt (1669) were born in Leiden just over a year apart, studied with the same master, and lived near one another, their names are forever conjoined. It is evident that as aspiring artists, they developed a symbiotic relationship that benefited them both. Nevertheless, Rembrandt's posthumous fame as the greatest artist of the Dutch golden age has left Lievens in his shadow, described as a follower or student, even though Leivens began his career some years before his compatriot. Owing to Lievens' peripatetic mode of living after leaving Leiden and his resultant international style of painting, a number of his best works were later attributed to Rembrandt, as well as to other artists. Fortunately, these misattributions are being corrected, and Lievens' early paintings are now better known, with the brashness of his vision and the boldness of his brushwork seen as rivaling Rembrandt's during the formative period of their careers. It is argued that in many respects, Lievens was the initiator of the stylistic and thematic developments that characterized both artists' work in the late 1620s.
This exhibition, organized by the National Gallery of Art, in association with the Milwaukee Art Museum and the Rembrandt House Museum, Amsterdam, for the first time, presents an overview of the full range of Lievens' career, and a long overdue reassessment of his artistic contribution. It will include about forty-five of his finest paintings—memorable character studies, genre scenes, landscapes, formal portraits, and religious and allegorical images—drawn from collections in England, Europe, and America, as well as some eighty drawings and prints.
Arthur K. Wheelock Jr. is Curator of Northern Baroque Painting at the National Gallery of Art and curator of the exhibition. This article was excerpted and modified for the purposes of this website with permission from the author. Read the original essay in its entirety in the exhibition catalogue.
Jan Lievens, Self-Portrait, ca. 1650s. Oil on canvas. The National Gallery, London. Presented by Charles Fairfax Murray.
Jan Lievens, Boy in a Cape and Turban, ca. 1631. Oil on canvas. Private collection.
Jan Lievens, Man in Oriental Costume, ca. 1629–1631. Oil on canvas. Stiftung Preußische Schlösser und Gärten Berlin-Brandenburg.
Jan Lievens, The Lamentation of Christ, ca. 1640. Oil on canvas. Bayerisches Staatsgemäldesammlungen, Munich, Alte Pinakothek.
Jan Lievens, Portrait of Rembrandt, ca. 1629. Oil on panel. Private collection.