Share Your Story
The Ebony Fashion Fair traveled to many places during its fifty years of touring, and for forty-six of those years, Milwaukee was a regular stop.
Did you see the fair in Milwaukee? Share your Fashion Fair memories here, or tweet to @MilwaukeeArt using #InspiringBeauty and #EbonyFashionFair—and your story might just appear in the exhibition!
What a blast from the past! On the eve of my 62nd birthday I am reminded of my love of sewing and design. Kovaks Fabric was a favorite destination. I would start an outfit on Saturday morning and wear it out on a date Saturday night. Thanks for the memories!

— L. Ghabalowski

I am overwhelmed. I was treated to a Fashion Fair ticket in the 1970's. It was eye-opening. Thank you MAM!

— Cathie Audesa

My sisters and I attended the Ebony Fashion Fair with our mother for many years. The experience helped us form positive views of black beauty.

–J.

On my 21st birthday, while living in Chicago, my mom treated me and my BFF to tickets to see Ebony Fashion show. She even bought us tickets to go to the cocktail party before the show. I wore a white chiffon pants suit and my mom's blue fox coat. Will never forget.

–J.

Ebony Fashion Show was the day that I came to Milwaukee as a seamstress. I waited to see new styles and beautiful black women and I wore my prom dress. It was always an awesome experience as a young black woman to share.

–Pastor Louisa

I got to see the Ebony Fashion Fair in high school when it came to Milwaukee. Beautiful, sassy, wonderful show. Thank you for really highlighting the beauty of the African-American community. Gorgeous women and mind-blowing dresses. Loved it and will be back soon.

–Danielle

Ebony magazine was a regular publication on my grandmother's coffee table – I always looked forward to the fashion edition, even as a small girl. This exhibit is really important to me and Timothy Westbrook gave a fabulous tour @ MAM After Dark

–ajrocslocs

I never knew much about Johnson Publications and the Ebony Fashion Fair in particular, but I was always inspired by the Jet Beauty of the Week. At one point, I wanted to be "Her" and even though the publication is online only currently, I still am inspired.

–Erika M.

Paraphrase of JPC. Start with a vision. Create it. Change what people see and you'll change what they think. Change an institution and you may change the world. Inspiring! Thank you.

–Anonymous

LOVE IT! On the verge of tears at times because it's SO BEAUTIFUL! So many fashion icons featured. I'm honored to see pieces up close. Thank you for this FASHION gift. I became a member to support this show. I will bring back family and friends to enjoy this again & again…

–Nicole Sutton

This is my first time experiencing it. My mom told me she used to go with my gramma and Gigi. Glad to share a new fashion fair memory with her on the anniversary of my gma, her mom's passing.

–C.

A beautiful part of OUR Black History – Thanks Mr. and Mrs. Johnson! Great Idea Milwaukee Art Museum. – I LOVE THIS

–A. Hayes

This is empowering. This is equality.

–C.M. Weigert

Thank you not only for the exhibit, the Community free weekend, but most of all giving my 9 yr old daughter Bella and I to experience our first trip to the museum together, interviewing her for Greater Milwaukee, getting her the exhibit book as a souvenir and letting her experience something she truly loves in life FASHION!

–Tammy Srehlek

Love seeing all the beautiful shades of the models. Took my niece to her first Ebony Fashion Show and now, she's a junior @ Mount Mary University pursuing a career in Fashion. Thank you!

–Nessa K.

If we can change how we are represented, we can change what people think about us." Thank you Mrs. Johnson for your vision and dream. Love it!

–Jessica

My mom used to get tickets for the girls to attend with her in the 80's. It was always a great time. I love her for that girlfriend, daughter, momma time.

–S.G.

My era. Love the life-like models and fashion.

— S.A.M.

Very nice exhibit. I loved it!

— Raven May
What I remember most about the Ebony Fashion Fair is: Please, forgive me as I wax poetic for a moment. Honoring the Ebony Fashion Fair allows me to remember an annual tradition I shared with my mother. Starting from the age of twelve, my mother and I would annually attend the Ebony Fashion Fair at Uhlein Hall or Pabst Theater. The woman who organized the Milwaukee leg of the tour was Marie Gaines, a member of our church. We supported her efforts to raise money for the Y-Minettes, through ticket sales. In return, we enjoyed an elegant mother-daughter outing with dinner and a world class fashion show!
We would get really dressed-up for this event. Often the audience was as fashionable as the designs sported by the models. Chicago's Mrs. Eunice Johnson personally knew the designers, chose each outfit and booked each model. The commanding Audrey Smaltz (?) was the commentator. The production quality of the show was more outstanding than what we see at Paris Fashion Week, FOR REAL!
–Sheri Williams Pannell, Milwaukee, Wisconsin
What I remember most about the Ebony Fashion Fair is: I remember the very first time I met Mrs. Eunice Johnson in 1992 when she came to see the Haute Couture Collection of Paco Rabanne in Paris. I started my collaboration with Paco Rabanne and was in charge to design experimental dresses who were the darlings of the press. Mrs. Johnson was a wonderful lady, full of passion for fashion and I was very proud she wanted to buy two of my very first dresses I created for Paco Rabanne and one of them was the wedding-dress… both out of plexiglass tubes, very fragile… Mrs Johnson organized a shooting for Ebony in Paris and I went to the shooting taking care of the two pieces. She was in a absolutely marvelous way; so full of excitement and attention to be aware that nothing happened to these two really fragile pieces.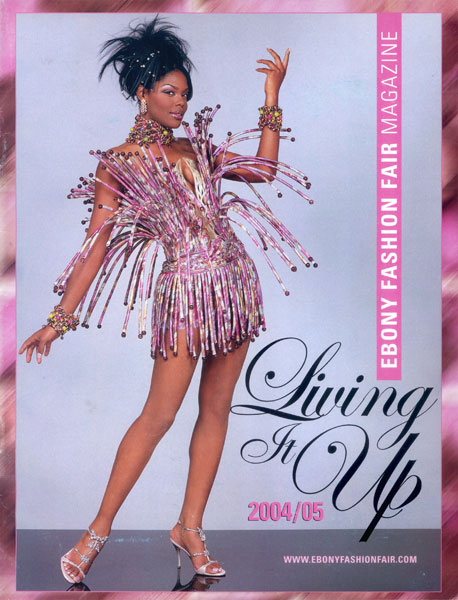 Years went through and when after the end of Paco Rabanne in 2000 I went on my own I was invited in 2004 by the French-American Chamber of Commerce to present some of my designs… I invited Mrs. Johnson and was very touched about how happy she was as well we got in touch again. Right away she wanted to buy some of my designs and was totally under the charm of the "Actinie (sea anemone)" dress but she wished it in rose instead of grey.
I presented to her one of the most beautiful fabrics "taffetas de chaine in silk" from Lyon. She loved it and agreed, the décolleté plastron was made to measure out of buffalo horn in Germany. The dress was technically very complicated and needed 12m of fabrics. It made me very proud that Mrs. Johnson loved this dress and put it even on the cover of one Ebony Issue. I had always a very strong admiration of the work of Mrs. Johnson, I am not just simply talking about fashion, I am talking about what she did to the society, to the african-american community and would even say with this to all.
I am very proud to share this by being represented with several dresses and particularly with the "Actinie" dress. When the Historical Museum of Chicago started the amazing exhibition Ebony – 50 years Inspiring beauty the "Actinie" dress shared the section of Introduction with Yves Saint-Laurent and the american designer Stephen Burrows… MERCI and all my respect to Mrs. Eunice Johnson, I am very glad I had the chance to meet this exceptional lady and to share her visions of beauty and society. I have a dream, and Mrs. Eunice Johnson is certainly one of them who made come this dream closer to reality and we should go all this way!!! PEACE & LOVE…
–Tilmann Grawe, Paris, France <><>
Seeing Inspiring Beauty: 50 Years of Ebony Fashion Fair at the Milwaukee Art Museum makes me feel: Happy, proud & optimistic…<><>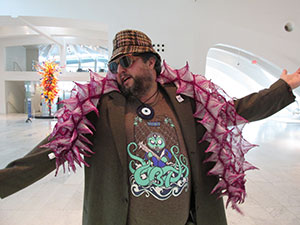 What I remember most about the Ebony Fashion Fair is: Smiles and this really cool scarf that I found in the gift shop.
To me, going to the Ebony Fashion Fair was: A truly magical experience.
Seeing Inspiring Beauty: 50 Years of Ebony Fashion Fair at the Milwaukee Art Museum makes me feel: So so Soulful at the Raw Beauty and Grace of such a Powerful and Empowering Exhibit.
–Paul Streeter, Madison, Wisconsin
What I remember most about the Ebony Fashion Fair is: The excitement we had about attending the event, which always meant a new outfit, or your best outfit, the most fashion forward ensemble pulled from your closet to impress your friends and whoever you were trying to catch the eye of… it was not just for women! Men came to the fashion show too, dressed to impress as well. The models were so elegant and could REALLY walk the the runway. The clothes were overboard, but were meant to inspire you to be more creative with your own wardrobe and that is essentially how we used it, to inspire ourselves to reach outside the box and really show how a strong fashion sense translated to our own everyday lives. We always waited to meet the models afterward and would try to steal the makeup techniques as well. One year I actually partied with some of the models by taking them to a club in Madison, big fun!
To me, going to the Ebony Fashion Fair was: The closest Madison ever came to being stylish. I always lived in Madison during its run, and Madison is kind of laid back and dressed down place....at least in the 70's it was. It was like going to a red carpet event.
Seeing Inspiring Beauty: 50 Years of Ebony Fashion Fair at the Milwaukee Art Museum makes me feel: Happy, remembering the excitement, the buzz, the adrenaline, of being involved with the show even if only as a member of the audience.
–Donece Thomas, Milwaukee, WI