GALLERY
---
Over 100 faces are depicted in Unmasked and Anonymous: Shimon and Lindemann Consider Portraiture. From early daguerreotypes to Shimon & Lindemann's poignant portraits to signature images by photographers such as Larry Clark, Sally Mann, and Alfred Stieglitz, the gallery provides but a sampling of the personalities you can expect to encounter in the exhibition.
VIDEOS
---
ONLINE GALLERY
---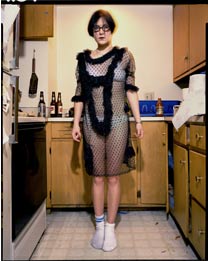 Visit the online gallery
SHOP ONLINE
---

Order the Exhibition Catalogue Softcover, 68 pages with over 60 color and B&W photos.
CAFÉ CALATRAVA
---
Indulge. Go ahead—summer is too short! Lunch outdoors on the Café Terrace, savoring seasonal specials and tried-and-true favorites.
---
© Copyright 2008 Milwaukee Art Museum